CityArts Exhibition at Aqua Art Miami
December 4, 2019 @ 3:00 pm

-

10:00 pm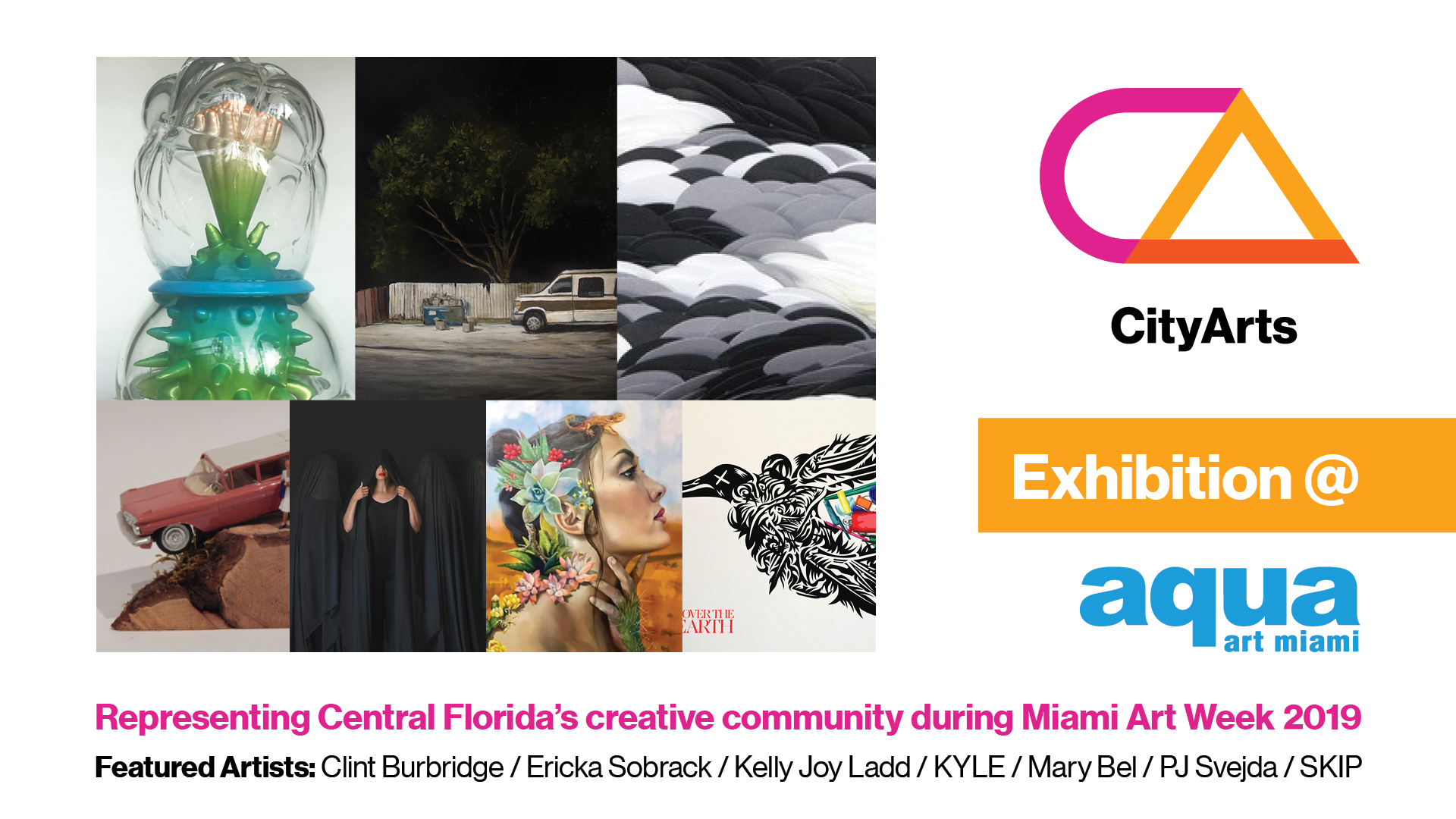 CityArts Exhibition at Aqua Art Miami
Representing Central Florida's creative community during Miami Art Week 2019
Stop by the exhibit and support your local artists!
Aqua Art Miami at the Aqua Hotel
1530 Collins Avenue, Miami Beach, FL 33139
Room 109
VIP Preview: December 4, 2019
Open to the Public: December 5 – 8, 2019
FAIR HOURS
Wednesday, December 4
VIP Preview 3 pm – 10 pm
Access for Art Miami, CONTEXT and Aqua Art Miami VIP Cardholders & Press
GENERAL ADMISSION
Thursday, December 5th 12 pm – 9 pm
Friday, December 6th 11 am – 9 pm
Saturday, December 7th 11 am – 9 pm
Sunday, December 8th 11 am – 6 pm
Featured Artists:
Clint Burbridge
Ericka Sobrack
Kelly Joy Ladd
KYLE
Mary Bel
PJ Svejda
SKIP
Central Florida is home to exceptionally talented artists. We would like to extend our deepest gratitude to the artists who applied for this exhibition, but were not selected. We are grateful for every artist, patron, and supporter for their efforts in furthering the arts within our community.
Art detail:
Clint Burbridge, Brush The Surface, 2019, Glass, 3D printed plastic, epoxy, 9″x14″
Ericka Sobrack, Oasis, 2019, Acrylic & Oil on Wood Panel, 15 x 16.5″
Kelly Joy Ladd, Gravitational Waves, 2018, Paper on canvas, 24″x24″
KYLE, The Lady Risks All, 2013, Construction, 6″x9″
Mary Bel, Awakening, 2018, Photography, 36″x24″
PJ Svejda, Refuge, 2019, Oil on canvas, 36″x36″
SKIP, Birdbrained, 2019, Spray paint & hand-cut stencils, 36″x36″
The CityArts exhibition at Aqua Art Miami was made possible by the Downtown Arts District. For more information, visit www.downtownartsdistrict.com